Rotary Friendship Exchange
One of Rotary's best programs is also one of its least known--Rotary Friendship Exchange.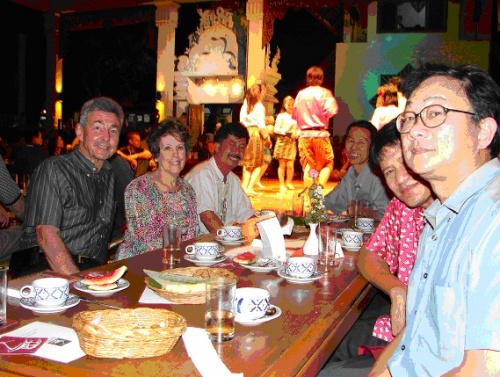 Richard Hudson of the Rotary Club of Fayetteville and his wife Joanna enjoy a magical evening of traditional Thai food and dance with their host during a Rotary Friendship Exchange to Thailand.
RFE is Rotary's international exchange program for Rotarian's and their families. RFE participants experience other cultures and build friendships by staying in the homes of Rotary club members in another country and then reciprocate by hosting their hosts in their country. RFE is very popular in many districts throughout the world and is gaining momentum in District 6110. Most of us are familiar with the old Group Study Exchange (GSE is no longer active). This wonderful program was designed to foster international understanding and cooperation, but typically only one Rotarian a year per district travels abroad as part of the program, the GSE team leader. In contrast, the RFE program invites any group of Rotarians to enjoy a reciprocal international exchange with Rotarian's from around the world. And, families can come along, too. The different types of RFE options are explained at the Rotary International website. RFE is very flexible, though, so if you wish you can choose one that reflects a mix of these options. A number of RFE's evolve from international projects that involve cooperating clubs from different countries and from international relationships that emerge from the Youth Exchange program.
Each participating district has an RFE Coordinator who can assist you in finding Rotarians who may wish to have a friendship exchange with you. Just ask the coordinator to help you arrange a reciprocal exchange with Rotarian's from a country, possibly even a city, of your choice or from a one of a number of Rotary districts around the world that have already requested an RFE with District 6110. Once contact is made between interested parties, it is up to exchangees to make all arrangements. The costs associated with travel and hosting are the responsibility of the participants. If you wish to pursue a Rotary Friendship Exchange, contact the D6110 RFE Coordinator PDG Larry Long of the Rotary Club of Fayetteville Northside.
The typical RFE "team" consists of a group of Rotarian's and their spouses, typically 2 to 5 couples from each country.
Some exchanges include children, too. The typical duration of a stay is a week to 10 days, but it could be longer or shorter as long as both parties agree. Rotarians are always surprised at how you can become such good friends with people a half a world away in such a short time.
Go here to download the Rotary Friendship Exchange Manual.
In the above image, Below, the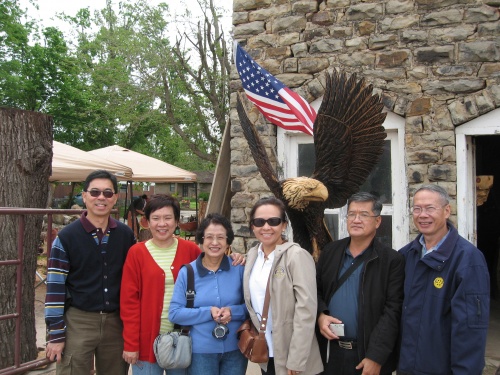 Rotary Friendship Exchange team spends the day exploring the Ozark Mountains on the reciprocal visit to Rotary District 6110.
For more information on Rotary Friendship Exchanges, contact Larry Long, Rotary Friendship Exchange Committee Chair.