End Polio Now
Learn more about End Polio Now here.
 Carol Orr, Rotary District 6110 Polio Eradication Committee Chair
Polio Eradication Update
The Polio Global Eradication Initiative tracks progress towards the eradication of polio globally and by country. See the weekly updates here.
Team Rotary Race Across America for Polio
The Team Rotary RAAMs  Polio are extremely grateful and thanks to everyone for your support of our Race Across America (RAAM) effort.  We were successful in completely 2016 RAAM in 7 days, 1 hour and 16 minutes (169 hours and 16 minutes).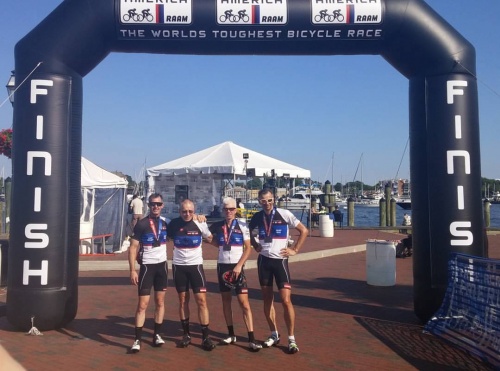 However, we are most honored that were able to raise $300,000 dollars to fund the eradication of Polio.  Thank you!

A few more stats regarding the 2016 RAAM we have been asked about:
25 miles
Oceanside, CA to Annapolis, MD
175,000 feet of climbing
12 states
13 average miles per hour
2nd place in our category
9th place overall
No penalties
No flats
No inclement weather, other than heat

Highest temperature we experienced, in the range of 117-122 degrees Fahrenheit
Lowest temperature, we recall around 37 degrees Fahrenheiteit

Do you have pictures? Yes go to Flickr "RotaryRAAM", Click Here
 
We all learned and were convinced that RAAM is "The World's Toughest Bicycle Race" and an "ultra event" for both the cyclists and crew members.  Thank you to our Team Rotary RAAM Polio team:

Elite Cyclist
Bob McKenzie (Tulsa, OK)
Randy Jackson (Tulsa, OK)
Steve Schoonover (Draper, UT)
Kurt Matzler (Italy/Austria)
Crew Members
Bill Clark – Crew Chief, (Oklahoma)
Darlene McKenzie (Oklahoma)
David Armstrong (Texas)
Erik Ortega (Oklahoma)
Jack McGlumphy (Oklahoma)
John Robertson (Arkansas)
Justyn Rains (Oklahoma)
Linda Ortega (Oklahoma)
Marvin Lee (Oklahoma)
Meinhard Huber (Austria)
Ryan Jackson (Arkansas)
One other question, we are getting asked.  Would you do RAAM again?  Each one of us have fond thoughts and enjoyed this experience and working together on this effort.  There are whispers about doing RAAM again but no roar at this time.  Stay tuned, we will see.....