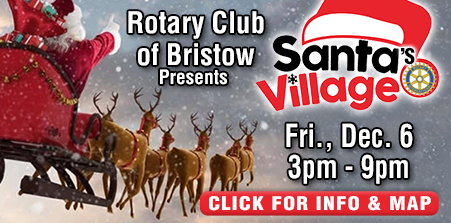 "Santa's Village" will feature shopping,
sweet treats, and photos with Santa.
Tickets for kids are $10 each and
include a professional photo with Santa.
You'll also receive hot cocoa,
a keepsake craft, and a sweet treat.
Adults are free.
Our fundraising site offers
several Christmas products for
sale as well as tickets to the event.
Rotarians who cannot attend but
wish to support the event can purchase
tickets online and we will gift the tickets
to kids in our community.
https://bristow-rotary-santas-village.myshopify.com/
Santa's Village
December 6, 2019 3pm-9pm
Oklahoma Venue 66
116 W 8th • Bristow, OK 74010